If you are going to have this kind of dog, better have a dog fence too. You will never expect how active this dog could be.

The

Papillon is a very intelligent toy dog that is quick to learn and eager to please.

These dogs excel in obedience and agility training.

These dogs make excellent companion dogs and family pets.

Although elegant and graceful, the Papillon also has plenty of energy and loves to play.

These small dogs have bags of personality and character, and also have plenty of stamina and enthusiasm for everything they do.

An excellent tracker dog, the Papillon loves to work and also enjoys getting involved with family activities and fun.
This is not a breed for those that do not have the time to dedicate to interacting with their pets.

The Papillon is an alert dog with plenty of spirit, and is an ideal choice for active owners.

These intelligent and keen dogs make obedience training easy and fun, although owners will need to exercise assertiveness and confidence in order to try and combat the Papillon's bossy and possessive streak. He is a quick learner and easy to train, making him ideal for the more inexperienced dog owner as well as for those with experience. However, he can be difficult to housebreak.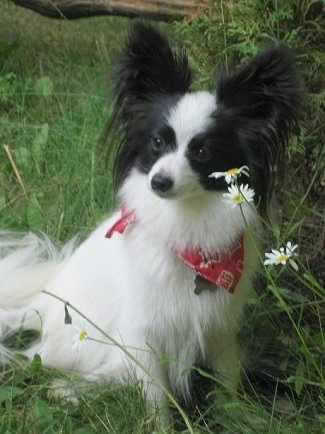 A keen barker, this breed makes an effective watchdog but can get a little noisy!

The Papillon will get along fine with older, gentler children. He is not suited to younger or more boisterous children because his tiny size means that he can get injured easily. These dogs will also be friendly and welcoming around strangers, and tend to get along fine with other small dogs and cats, although he may try and stand up to larger dogs. Some dogs can be confident and sociable, but others may be more timid and nervous. Early socialization can help to promote a stable temperament and attitude. The Papillon is a very versatile pet, and is suited to apartment living as well as living in a house.
Photo Credits

: princesspetuniaspuppies.com | cdn-www.dailypuppy.com | www.dogbreedinfo.com | iapups4u.com